Drill Unit Components
Blackalloy self-feeding drill units can be equipped with nearly any combination of the following options:
Motors to power spindle rotation in AC, DC, and Air configured in either direct drive (in-line coupled) or belt driven with timing belt & pulley configurations selected to target your optimal spindle speed.
Various stroke lengths of sealed, hydraulic feed controls are available to provide adjustable and consistent rates of feed while cutting into and through the material.
Pneumatic control kits can be configured to provide complete drilling cycle with a single button press for one drill unit or for several drill units in series.
Special "pecking" feed controls of various stroke lengths can be supplied and configured with pneumatic controls to provide deep hole peck drilling capabilities.
Key type drill chucks, ER-style collet chucks, multiple spindle drill heads, are available to provide the tool holding needed for your specific application.
Self-reversing tapping head attachments can be supplied with the self-feeding drill units to fill the need for tapping operations.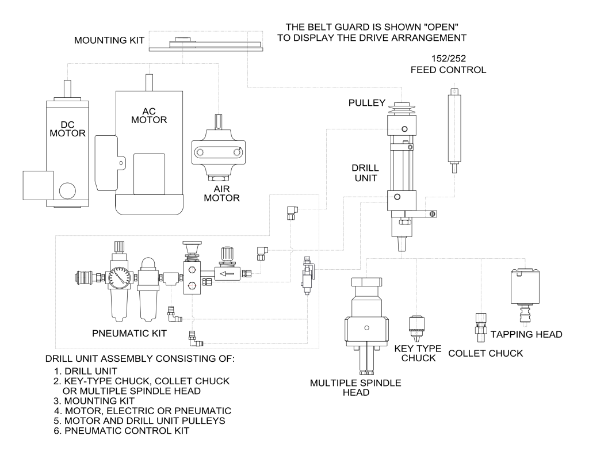 Available Components to Customize a Blackalloy™ Drill Unit